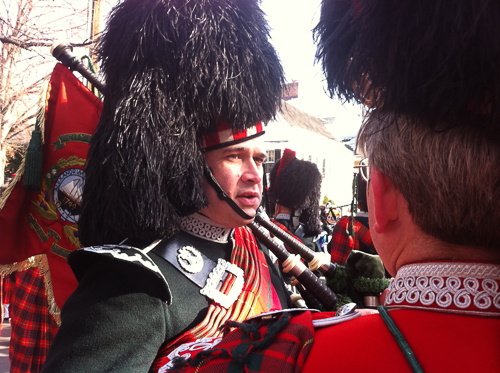 PM John Sprague | Alexandria 2010
2015 Band Roster
John Sprague - Pipe Major

Grade 1 piper and current Pipe Major, John is also the teacher/instructor to many current and aspiring pipers in the Washington D.C metro area.

Dave Anglin - Recruit Piper

A former drum major with another local pipe band, Dave enjoys mountain biking, backpacking, and manages to get in some some mountaineering. He also serves as the main entertainment stage manager at the annual Celebrate Fairfax festival.

Homer Babcock - Sergeant Piper

Homer, a former Pipe Major of the band, was one of the original "founders" of the band. Homer is truly a "country gentleman" and as the longtime secretary of the band kept all of us in order! Homer is a steam locomotive nut.

Neil Bankenstein - Drummer

Neal has been a valuable member of the snare ranks since 2012.

Judi Blaine-Stewart- Corporal Piper

A former member of the Fairfax County Deputy Sheriffs pipe band, Judi entered the CAPD ranks in 2010

Jeff Buchanan -Piper

Jeff was a member of the Fairfax County Deputy Sheriffs pipe band prior to joining CAPD in 2010.

Mike Bryan - Drum Sergeant

Mike has been one of our most consistent bandsmen since joining CAPD in 2008. He now has the responsibility of being the "lead tip" snare for the band. Mike also serves as the band's Graphic Designer.

Mike Challen - Drummer

Mike joined the band in 2015. He previously played in pipe bands in his native Australia.

DM Kevin Donnelly | Alexandria 2015

John Cornicelli - Piper

John came to CAPD in 2010. In addition to playing the pipes, he serves as band's meteorologist!

Kevin Donnelly - Drum Major /Tenor Drummer

Kevin joined CAPD in 2012 and has served in our tenor drum rank. He assumed the position of drum major for the band in 2015 and has been doing an excellent job in his new capacity.

Mike Dow - Pipe Sergeant/ Exec Member at Large

Mike is the former pipe major of the Long Island-based Northport Pipes and Drums. He joined CAPD in 2004 and maintains the band's website.

Greg Duncan-Peters - Lance Sergeant Piper

Greg has been a piper in the band for over 2 decades. He served as Band Treasurer for most of those years.

Cory Gillette - Piper

Cory came to CAPD from the Mystic Highland Pipe Band in Connecticut. His love for the bagpipes started as a child when he lived in Scotland. He began playing the pipes in 2004 after returning from the Middle East with the Army.

John Gustafson - Sergeant Drummer

Former Pipe Major and now a dedicated member of the snare drum rank. John got into bagpipes when nobody else liked them! Three favorite things: Grand Prix Racing, Bagpipes and the Matterhorn... not necessarily in that order!

Sallie Hutcheson- Drummer

Sallie joined CAPD in 2009, rediscovering a love of snare drumming she first developed as a member of an all-girls fife and drum corps in her high school years in Williamsburg, VA. Coincidentally, that band also wore a Scottish-inspired uniform.

The drumline marches up to start the Massed Bands | Alexandria 2010

Susan Hyams- Piper/ Dance Instructor

A Grade 3 piper, Susan started bagpipe and dance lessons with Lezlie Paterson Webster in Massachusetts. She went to St. Andrews Presbyterian College in Laurinburg, NC, where she played in the college pipe band under P/M Bill Caudill. A member of the British Association of Teachers of Dancing, Susan is the founder and director of the Thistle Dancers, a group of talented dancers who perform the traditional dances of Scotland (often accompanied by the City of Alexandria Pipes and Drums.

Paulette Johns - Piper

Paulette has been a piper in the band since 2012, coming to CAPD from the Chesapeake Caledonian Pipe Band.

Charles King - Corporal Piper

Charles has been with CAPD since 2008 and played bagpipes for a number of years prior to joining the band. He is a professor in the School of Foreign Services at Georgetown University. An expert on eastern Europe, nationalism, and ethnic conflict, Charles has lectured widely on these topics and has worked with broadcast media ranging from CNN and the BBC to the History Channel and MTV.

Pam Levy - Lance Sgt Piper

Pam joined the band in 2002. At home she plays bagpipes with canine continuo.

The band poses with its trophy | Williamsburg 2009

Rhett Lowery - Piper

Many years ago while watching "Brigadoon" one night, and replaying the bagpipe scenes over and over, Rhett decided that this was an instrument he wanted to play. He also rings handbells and sings in his chuch choir.

Wayne Lowery - Sgt Piper/Quartermaster

Proving that it's never too late to begin a new hobby, Wayne took up the bagpipes after reaching the mid-century mark. He joined our ranks in 2007. In 2008 he took on the Band Quartermaster position and has been doing a tremendous job of keeping us in fine form!

Steve McLeod - Piper

Steve joined the band in 2010 along with several members of the Fairfax County Deputy Sheriffs Pipes and Drums. He plays ice hockey and works in the 5 sided wind tunnel (a.k.a. the Pentagon).

Mike McLean - Lance Corporal Piper

A grade 3 soloist and long time CAPD member, Michael "Mac" McLean returned to the band in 2006 after an overseas job assignment in Italy. While there, he played with the City of Rome Pipe Band.

Chris Moss - Lance Corporal Piper

Chris is the only member of the band that is into curling (nothing to do with hair) and "old crows"!

Jeff Noble - Drummer

Jeff came to CAPD in 2010 and finally in 2015 has learned the ins and outs of the tenor drum. We're glad to have him in the ranks.

Joe Ogulin - Sgt Piper

When not working at his job in information technology or playing the bagpipes, Joe can be found at local skating rinks, where he spends his time as a hockey referee.

Gus Person - Lance Corporal Piper and Drummer

Gus is a retired New York City parole officer. He played for the Nassau County Police Emerald Society Pipes and Drums before coming to CAPD in 2011. Interesting trivia... Gus learned to play the pipes from an old Scotsman who helped build the Titanic! Gus decided to join the drumline in 2013 as a tenor drummer, and also gives the band some pointers on Drill and Deportment from time to time.

J.J. Powers - Drum Major Emeritus

J.J. retired from active duty as Drum Major in 2015. For many years he was responsible for the Dress, Drill and Deportment of the band and anyone who has seen the band will attest to the outstanding job he did! Thankfully, J.J. will remain with the band in an advsory capacity.

Apple Blossom Parade | Winchester, VA 2008

Ann Reesman - Sgt. Piper/Secretary

Ann began piping as part of a midlife crisis. She practiced employment law in D.C. before retiring to concentrate on her high G doublings. She is now responsible for maintaining revision control over our music repertoire as well as coordinating band attendance-- for this we are extremely grateful!

Phil Rose - Piper

Phil started piping in his native England, where he played with Grade 2 Beeston and District pipe band before moving to the United States and joining Long Island's Inis Fada pipe band in the 1990s. He became a member of CAPD in 2000.

Mike Scanlon - Piper

Mike started piping with the Flint (Michigan) Scottish pipe band and joined CAPD in 2013.

Ed Stewart - Corporal Drummer

As CAPD's Bass drummer, Ed is responsible for the beat of the band. Prior to taking over these responsibilities, he served in our tenor drum rank since 2011.

Chris Stockton - Piper

Chris is a welcome addition to the pipe ranks. He made his debut with CAPD in 2015.

Woody Taylor - Piper

Woody has been a piper in the band since 2010 and one of our most reliable members. He is a social worker by profession.

Amber Tussing - Lance Sgt Piper / Treasurer

A grade 3 soloist, Amber joined CAPD in 2010, coming from the University of Mary Washington Eagles Pipe Band. She now serves as our band Treasurer.

Peter Walker - Lance Corporal Piper

Pete has been playing in the band since 2005. He has competed successfully in solos. In addition, Pete is an accomplished Scottish fiddler, and competed in the '04 and '05 US National Championships. When not playing music, Pete is a Space Physicist working at the Naval Research Laboratory.

Norma Vargus - Drummer

Norma has been a welcome addition to our tenor drum ranks since joining the band with husband, Rich Vargus, in 2013.

Rich Vargus - Drummer

Rich plays tenor drum and fills in on the Bass drum as necessary. We're very appreciative of his talent and dedication.

Dan Walsh - Drummer

Dan's drumming background and dedication allowed him to make quick progress after joing the band in 2011.

Dottie Whitehead - Lance Corporal Drummer

Dottie has been an accomplished tenor drummer with local pipe bands for a number of years, and she joined CAPD in 2005.

Conrad Wong - Corporal Drummer

Conrad, in addition to being a tenor drummer, has another love: "American muscle cars".